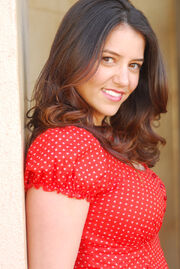 Anndi Lynn McAfee
(born September 28, 1979) is an American actress and singer. She played
Little Sister
from the American stop motion series Bump in the Night.
Biography Edit
She was born in Los Angeles, California, she started performing on stage when she was 7 years old and began working on film projects a year later. Anndi has been seen and heard in many commercials, films and TV series.
She played Randy's (Jonathan Taylor Thomas) first girlfriend, Beth, on Home Improvement, as well as Monica in Dark Chronicle.
She also voiced a girl named Carrie in an episode of The New Batman Adventures titled "Legends of the Dark Knight", who closely resembles the final Robin (comics), Carrie Kelly in Frank Miller (comics) Batman: The Dark Knight Returns.
One of her most famous roles is the bad-tempered Cera (The Land Before Time), Lydia, Corythosaurus in The Land Before Time sequels, Ashley A, Ashley Q in Recess (TV series) and Brittany Boviac in Lloyd in Space, as well as Phoebe Heyerdahl in Hey Arnold!. She was also the voice of Robyn Starling in 1993's Tom and Jerry: The Movie and Yumi in Ape Escape 3 as of LBT 5, she replaced Candace Hutson to voice Cera. In 2017 she voices Sugar in Nickelodeon's Sky Rat.
Role in the series Edit
---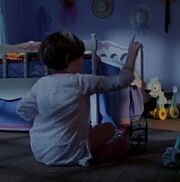 Ad blocker interference detected!
Wikia is a free-to-use site that makes money from advertising. We have a modified experience for viewers using ad blockers

Wikia is not accessible if you've made further modifications. Remove the custom ad blocker rule(s) and the page will load as expected.