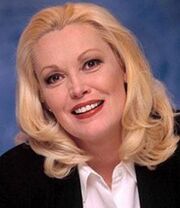 Cathy Moriarty
(born November 29, 1960) is an American actress, she  provided the voice of
Destructette
from the Bump in the Night Christmas Special
T'was the Night Before Bumpy
. 
Her role as Jake LaMotta's wife Vikki in Raging Bull , directed by Martin Scorsese, earned her an Oscar nomination for Best Supporting Actress.
Moriarty's film credits include Neighbors, Soapdish, Casper, Analyze That and The Bounty Hunter. Appearances on television include Tales from the Crypt, Law & Order, Law & Order: Special Victims Unit and Law & Order: Criminal Intent.
Role in the Series
Edit
Ad blocker interference detected!
Wikia is a free-to-use site that makes money from advertising. We have a modified experience for viewers using ad blockers

Wikia is not accessible if you've made further modifications. Remove the custom ad blocker rule(s) and the page will load as expected.