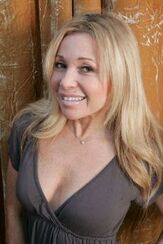 Elizabeth Ann Guttman
, better known by her stage names of 
Elizabeth Daily
 and 
E. G. Daily
 (born September 11, 1961 in Los Angeles, California) is an American voice actress and singer. She is the voice of Germ Girl from the American stop motion series, Bump in the Night.
Most famous as the voice of Buttercup on Cartoon Network's animated TV series The Powerpuff Girls and Tommy Pickles from Rugrats. Aside from Voice-acting she has been quite success-full as a musical-performer. 
She also does the singing voice of Jake Harper in the opening credits of Two in a Half Men. She has also done voice-over work in movies such as Happy Feet and Happy Feet 2, and Babe: Pig in the City (taking over the role from Christine Cavanaugh).
Role in the Series
Edit
Ad blocker interference detected!
Wikia is a free-to-use site that makes money from advertising. We have a modified experience for viewers using ad blockers

Wikia is not accessible if you've made further modifications. Remove the custom ad blocker rule(s) and the page will load as expected.