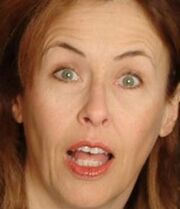 Gail Matthius
 (born December 14, 1953) is an American actress. She was a cast member of NBC's 
Saturday Night Live
 during its critical and ratings low point at the time (the 1980–1981 season headed by Jean Doumanian), and co-anchored the Weekend Update segment with Charles Rocket in 1981. 
She is the voice of Molly Coddle from the American stop motion series Bump in the Night. She also voiced Anti-Molly in the episode "Farewell, 2 Arms".
She has done a good deal of voice acting for animated shows in the late 1980s into the 1990s, including Bobby's World,Tiny Toon Adventures, Animaniacs, The Ren & Stimpy Show, Bump in the Night and The Tick .
Role in the Series
Edit
Ad blocker interference detected!
Wikia is a free-to-use site that makes money from advertising. We have a modified experience for viewers using ad blockers

Wikia is not accessible if you've made further modifications. Remove the custom ad blocker rule(s) and the page will load as expected.