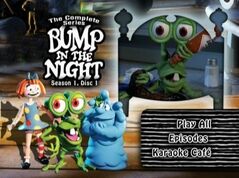 Episodes of the American stop motion series Bump in the Night have been released for home media such as home video and DVD.
Bump in the Night had several video releases all of which are out of print. In 2007, a DVD was released that contained seven episodes and various "Karaoke Cafe" segments. In April 2010, Shout! Factory released Bump In The Night: The Complete Series on DVD. In late 2012, Shout Factory discontinued selling the complete series of Bump in the Night cause some people had problems with the discs, In early 2016 the company Mill Creek Entertainment re-released the Bump in the Night The Complete Series on DVD with 2 discs with each of the seasons also with bonus features.
Night of the Living Bread (Original September 23, 2003. Re-Released August 21, 2007)
Twas The Night Before Bumpy (October 23, 2007)
Bump in the Night-The Complete Series (Shout Factory! release, April 20, 2010; Out of Print as late 2012)
Bump in the Night-The Complete Series (Mill Creek Entertainment release, February 16, 2016)
Ad blocker interference detected!
Wikia is a free-to-use site that makes money from advertising. We have a modified experience for viewers using ad blockers

Wikia is not accessible if you've made further modifications. Remove the custom ad blocker rule(s) and the page will load as expected.