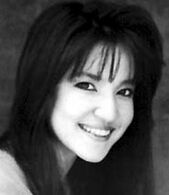 Hiromi Janice Kawaye
 (born January 29, 1970)
is a Japanese-American actress. She is currently goes under her married name 
Janice Roman Roku
. She was the voice of Little Robot, Little Robot's Sister and Yellow Bunny from American stop motion series Bump in the Night.
She has also done voice acting in animated films, cartoon series and anime series, and is also know for voicing Jenny/XJ9 in the Nickelodeon series, My Life as a Teenage Robot. 
Roles in the Series 
Edit
Ad blocker interference detected!
Wikia is a free-to-use site that makes money from advertising. We have a modified experience for viewers using ad blockers

Wikia is not accessible if you've made further modifications. Remove the custom ad blocker rule(s) and the page will load as expected.