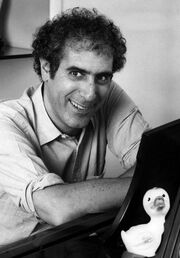 Jeffrey Arnold "Jeff" Moss
(June 19, 1942 – September 24, 1998) was a composer, lyricist, playwright and television writer. He worked as a composer and song writer for Bump in the Night, he was also well know for his work on Sesame Street. 
Early life
Edit
Moss was born in New York City; his father Arnold Moss was the stage and screen actor while his mother, Stella Reynolds gave up acting to become a soap opera writer. He attended the Browning School, and Princeton University.
In 1969, he became the first head writer, along with a composer and lyricist, for Sesame Street. Songs he wrote for the show include "I Love Trash", "Who Are the People in Your Neighborhood", and "Rubber Duckie". He would eventually win fourteen Emmy Awards for the show.  
Moss also wrote and composed the music for The Muppets Take Manhattan in 1984, and was nominated for an Academy Award.  
He worked as music composer and lyricist for the stop motion series Bump in the Night. He was credited for writing songs such as the Karaoke Cafe Song, Invaders, "Long Long Day" song, "When the Music starts" song and the "Neat and Clean" song.
Moss was diagnosed with colon cancer in 1994, He passed away at age 56 on September 24, 1998. He was survived by his wife, Anne Boylan; his son, Alexander Moss; and his stepson, Jonathan Boylan Smith.
Episode 3786 of Sesame Street was dedicated in his memory.
Ad blocker interference detected!
Wikia is a free-to-use site that makes money from advertising. We have a modified experience for viewers using ad blockers

Wikia is not accessible if you've made further modifications. Remove the custom ad blocker rule(s) and the page will load as expected.