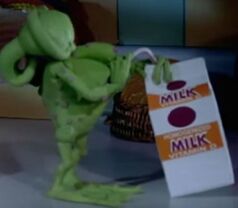 Milk
is a white liquid produced by mammals. It is a dairy product and a source of calcium.
In the Bump in the Night episode "Made in Japan"  Mr. Bumpy gobbles up cereal flakes from a box of Choco Space Flakes, he then gets up and walks over to a carton of milk.
Bumpy then starts slipping the milk from a straw to wash the cereal down. Bumpy then sighs with satisfaction and starts shaking himself so the "milk can be chocolaty nutritious."