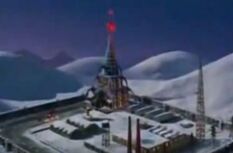 The North Pole
is a location from the Bump in the Night Christmas special, T'was the Night Before Bumpy.
Mr. Bumpy and Squishington go on a quest to find the North Pole and sneak into Santa's Workshop and take the Bag of Presents. When the duo finally reach the North Pole, it is revealed that Santa's Workshop is a high security military zone, guarded by Elves and and army of Snowmen. 
Mr. Bumpy and Squish disguise themselves as a snowman in order to sneak in, but when their cover is blown, they run inside while the Elves and the Snowmen follow after them.  
Ad blocker interference detected!
Wikia is a free-to-use site that makes money from advertising. We have a modified experience for viewers using ad blockers

Wikia is not accessible if you've made further modifications. Remove the custom ad blocker rule(s) and the page will load as expected.