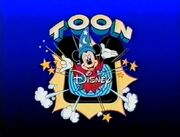 Toon Disney is a former worldwide digital cable and satellite television channel that was owned by the Disney Channels Worldwide, a subsidiary of Disney-ABC Television Group. A spin-off of the Disney Channel, the channel mostly aired children's animated series and some live action programming. Its format had similarities to those of Discovery Kids, Cartoon Network, and Nicktoons. The channel's target audience was children ages 2–11, and children ages 7–14 during its nighttime block called Jetix. Toon Disney shut down on February 13, 2009, after nearly 11 years, and was replaced by Disney XD, which has carried some programs previously seen on Toon Disney.
Back in 1998 when Toon Disney first aired, They aired re-runs of the Bump in the night series 1998-2001. The original airing for the series was ABC The American Broadcasting Company 1994-1996.

External Links
---
https://en.wikipedia.org/wiki/List_of_programs_broadcast_by_Toon_Disney
Ad blocker interference detected!
Wikia is a free-to-use site that makes money from advertising. We have a modified experience for viewers using ad blockers

Wikia is not accessible if you've made further modifications. Remove the custom ad blocker rule(s) and the page will load as expected.