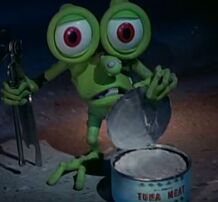 Tuna
is an edible type of fish and is a source of Omega 3.
In the Bump in the Night episode "Night of the Living Bread",  Mr. Bumpy opens a can of tuna, he then turns to the viewers and says "don't worry, it's dolphin safe", and then chirps like a dolphin. 
Bumpy plans is to make The Living Bread eat so much until it explodes. When Squishington leaves the kitchen to lure the Bread. Mr. Bumpy loose control of is appetite and starts all the food. Bumpy then gobbles up the Tuna after eating the Ham and the Jelly.  
Ad blocker interference detected!
Wikia is a free-to-use site that makes money from advertising. We have a modified experience for viewers using ad blockers

Wikia is not accessible if you've made further modifications. Remove the custom ad blocker rule(s) and the page will load as expected.